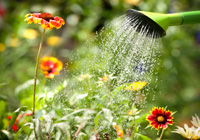 Our plants provide a pleasant, soothing living environment and they need attention while you are away. Houseguard tends your plants with care, watering them and keeping them healthy according to your instructions. We are experienced in taking care of all plants from the exotic to the normal.
We water exterior gardens, flower beds and lawns as requested. Our exterior care can include lawn mowing, watering of new lawns to keep them from drying out and other services as may be required over the long term, if requested.
"... was very pleased with the service - sitter made an extra trip because she thought the A/C was too cold for the cats. ... would really like to have her again."
"Fabulous service - have recommended it to several others. Great when you have no family here."
"Thanks for the great service. I will rest easy knowing my place will be well cared for by your company. Thanks!"
"My 19 year old kitty cat appreciates Jim very much. Thanks to you guys too."
- Debra M.