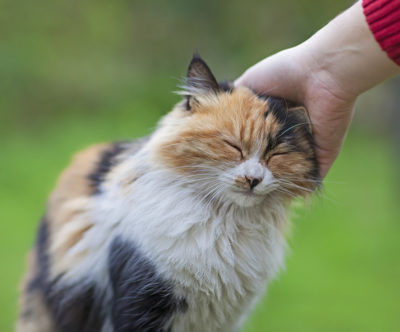 Cats have their own distinct personalities that can range from craving affection to being somewhat aloof, oftentimes a combination of both, depending on the cat's fickle mood. Each cat is individual and unique. In fact, it has been said that one does not own a cat, the cat owns you. Although cats are generally more independent and less demanding than dogs, our furry feline friends still require special care and this is especially true when their owners plan to be away on vacation or some other trip that will necessitate a lengthy absence from home. It is not unusual for a cat to alter his behavior accordingly when he senses his owner will soon be going away for longer than just a typical day at work. Besides the separation that instills anxiety in your pet, it is also the fear the cat senses that he might be taken from the comfort of his home to a boarding cattery. Despite their independence, cats are territorial and become attached to their home environment: their familiar eating area and those special places where they like to curl up for a nap. If cats are suddenly removed from their environment and separated for lengthy periods from their owners, they may exhibit symptoms of stress also known as "cat trauma", which can include loss of appetite, spraying and scratching.
While temporary partings from their owners cannot always be avoided, you can still see to it that your kitty companion is made to feel comfortable by arranging to have him stay in his familiar surroundings and with no disruption to normal routines. This is where the services of a pet sitter can ease your care concerns and assist with the ongoing welfare of your cat.
At HOUSEGUARD our pet care provider professionals are mature, responsible and reliable. Above all, they are true animal lovers who understand your pet's needs during your time of absence. Our cat sitters take care of your pet in your own home so that the cat's routine remains consistent and your pet can continue to enjoy human contact while his owner is away. Besides ensuring the cat is kept supplied with food and clean drinking water (and that the litter box remains well-maintained), HOUSEGUARD pet sitters also spend necessary quality time with the animal to ensure that your pet remains happy and healthy, and, if necessary, are able to discern whether your cat might require veterinary attention.
HOUSEGUARD also ensures that visits to your cat follow a consistent schedule. If a sitter is visiting in the morning, all visits will follow during the morning so that the established routine is maintained, which is important in helping your cat to adjust to a new presence in his guarded environment.
Cat sitters also provide peace of mind to the animal owner, who can enjoy their travel confident in the knowledge that their cherished pet is being well looked after by a caring and knowledgeable person informed of your cat's routine, habits and even peculiarities.
HOUSEGUARD is dedicated to taking care of your cat's needs and committed to ensuring that your pet is loved and made comfortable until you come walking back through the front door.